I'm always buying new furniture and decor for staging
because I have a shopping problem
because no two houses are the same and therefore cannot be staged the same. Recently, I've been buying with the Harvard Ranch in mind. It's a Ranch, so some things like layout are pretty standard, and it's in a rural town that's mostly farmhouses so there's a distinct aesthetic, but it's also a renovated and totally unique property. So there's a lot to consider.
Let's talk armchairs. The living room of a house is where guests often congregate, so obviously you want it to look its best. Admittedly, I don't care much for orange. But I was obsessing over the Whitefish, Montana house that HGTV was giving away at the time of my purchase and in that house the living room had an orange theme and it looked so cozy and luxurious and I'm easily swayed by a beautiful picture. It happens.
It takes a lot of pieces to come together to make up all the staging items I use in one house. As such, I look for deals. I have to. However, I don't want anything to look cheap. I am selling a lifestyle when staging a house, an image you can step into and think, "I'd like to live here, for this to be mine." Sometimes I will spend more on an item just because I think I may not be able to find something else like it for less, or I need it immediately for staging and don't have time to bargain shop. Or I'm just being impulsive. But luckily with staging this house I've had time.
So I love West Elm's aesthetic. You walk into that store and just want to buy everything and then have someone set it up exactly as you see it. Also, have you gone in there and laid on one of their Leesa beds? Holy potatoes is that comfortable. But I digress.
West Elm's Mid-Century Show Wood Chair
is on sale for $594. If you can afford two of those then color me jealous.
Image Courtesy of West Elm
But if you're on a budget, which is nothing to be embarrassed about, then let me help you out. The
Brayden Tufted Club Chair from Target
is nothing to scoff at. I'm actually kind of obsessed with how good it looks in person. And it's on sale for $147. Also of note, if you're not sold on orange, both of these chairs come in other, more neutral colors.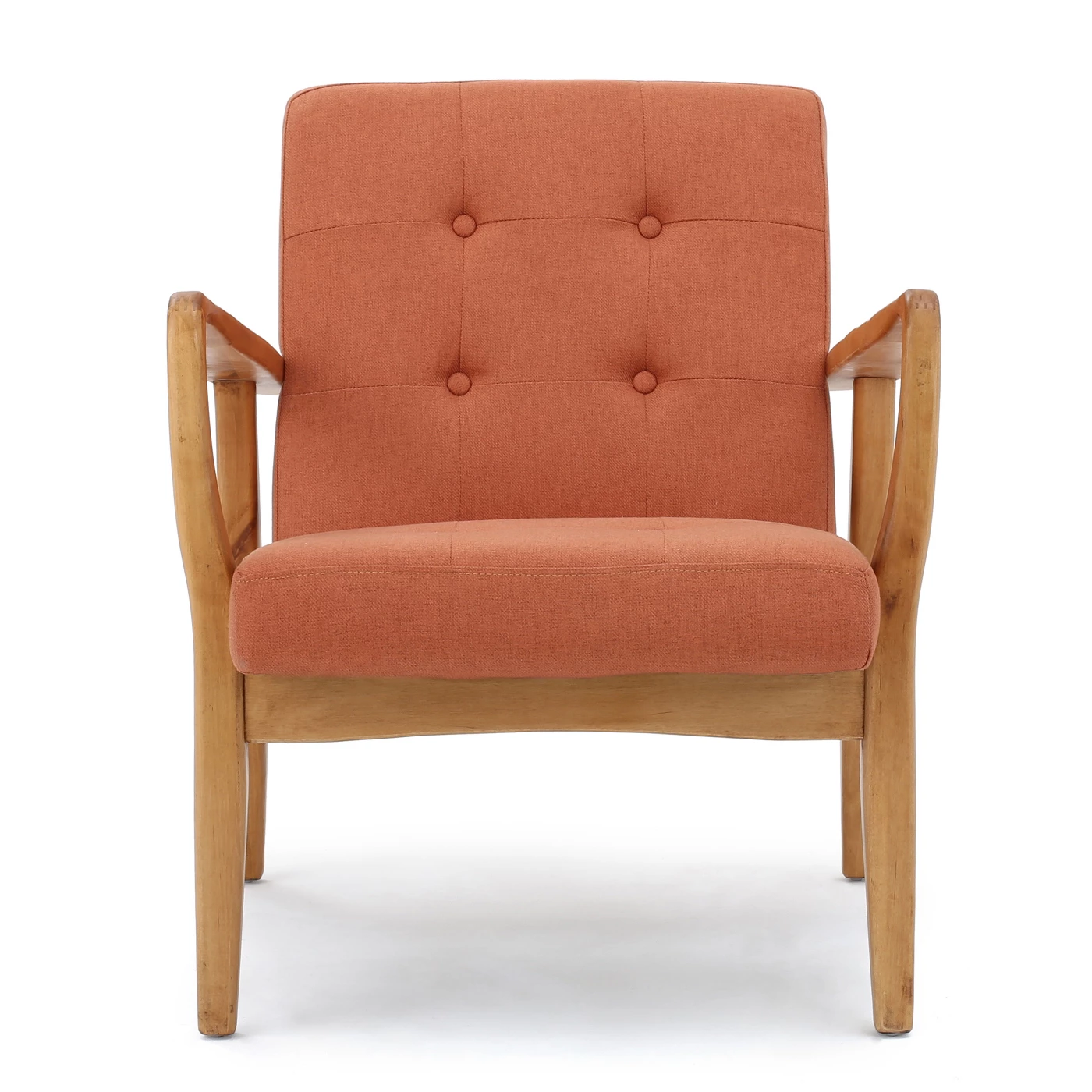 Nightstands. I have no problem splurging on nightstands for personal use, but when staging (especially multiple bedrooms) you need multiple pairs and it can get pricey. So for staging I definitely look for deals. I found
these nightstands on Wayfair
and I gabbed with a girlfriend while putting them together and they weren't difficult at all. And the best part is... they were only $87 a piece! Also, this picture I took after putting them together makes them look white but they're actually grey. It was just a super sunny day and my bestie has a lot of windows in her dining room. Yes, she's amazing and let me ship a bunch of staging to her house.
But again, if you have the money for the splurge then by all means splurge on two
Big Daddy's Antiques Metal Nightstand from Pottery Barn
. (Who at PB thought that that was an enticing name for a nightstand? They might as well have called them Mr. Grey Will See You Now Nightstands. I mean really.) PS they're $599 each, but they look stunning in the website's staged photos so maybe they're worth it.
Image Courtesy Pottery Barn.
So anywho, that's a peek into my brain and how I picked two items I'll be using to stage The Harvard Ranch renovation. We're getting close and I can't wait for you to see it.
~ Stephanie