So. I spent the weekend at home so I could work on the house with my father and let me just say that it was so exhausting that I slept better last night than I have in probably a year. But first let's discuss interior for a quick minute.
When we first got into the house and began discussing adding a bathroom and potential layout I drew up what I thought was the best layout which would maximize the space. We wanted to add a master bath and completely redo the guest bath. I thought we were in agreement and then after I came back to work last week the guys framed the bathrooms and when I returned my father explained that they'd gone with a different layout. NOOOOOOOOOOOO!
I felt like doing this: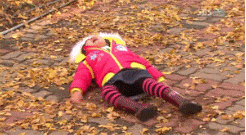 Ask my father. I'm not averse to throwing a tantrum. But it's framed and can't be undone so oh well, I'll just secretly grumble to myself and whoever is reading this. Uuuuuuuuuugh.
Moving on. The floor guy stopped by Saturday morning to see what we were working with. He worked on the last house with us, which if you needed reminding
he did a beautiful job
. He basically said we have amazing floors and he's going to make them look magical. I can't wait to see the finished product.
In an ongoing effort to cover up the baby blue that permeates the exterior of the house, my father thought we'd stain some shiplap and see how it would look on the garage. So I was tasked with staining the boards and then used a nailgun for the first time. Note to self, start lifting weights. Standing on a ladder makes me nervous to begin with. But then I have hardly any upper body strength and the gun won't work unless you're applying a fair amount of pressure so on more than one occasion I was yelling at the gun to just work already as my arm grew weaker and weaker.
I didn't end up taking a "completed" picture because it got put on pause when my uncle and cousin arrived with the excavator. But look at how great the stain looks and imagine it beside a grey house. It's going to be a stunning exterior once completed.
So that pool. It's gone! My uncle tore in on the excavator, downing trees in the backyard, wreaking general havoc (kidding), and then
poked a hole in the side of that gross pool
and out gushed the water. He's going to recycle the materials (one less thing for us to deal with) and then we'll have to clean up the side yard. But already the yard feels much less cramped.
Then
my cousin climbed in and began hauling out the shrubs
from the front so we can put in the farmer's porch. It must be in the Blackburn genetic code that we like playing with machinery. I don't know how else to explain it. It's not just boys playing with toys because I'm a girl and I've driven a backhoe and our tractor.
So now the shrubs are gone but the front yard is looking pretty bleak. I spent Saturday afternoon and Sunday digging the holes for the posts while my father mixed and poured concrete. And as you can see below, I had a professional hole digger supervising the affair. He got down and dirty helping me on Saturday but on Sunday he watched from a chair, apparently too tired from the previous day's activity. Now all he needs is a little doggy hard hat and tool belt...
So that's how I spent my weekend. Don't worry, I managed to fit in time to go apple picking, bake apple crisp and make a Fall sangria, which was enjoyed around the backyard firepit. So it wasn't all work this weekend. You've got to have a balance. And anyways, I really enjoy working on the house so even if it is exhausting I'm having fun.
Lastly, I am now getting grief about my choice of work boots from not only my father but my uncle as well. Listen. if one of them wants to buy me a pair of Timberlands I would gladly accept them. But until then I am just fine wearing my Roxy's on site. They get the job done just fine, thank you very much and they look pretty cute too.
~Stephanie